Introduction:
As an author with cerebral palsy, I find solace and inspiration in the works of national authors. With each character and every book I publish, there is always a piece of me that reflects some aspect of my life. In this blog post, I want to share my personal experience of how I found myself within my passion for writing, and how national authors have influenced my journey. Specifically, I will delve into the impact of Nicholas Sparks' literature during my freshman year of high school, as well as the significance of the Bluford series authored by various writers. Moreover, I will discuss the importance of representation within all disabilities and the diverse quantities of life.
Finding Myself in Writing:
As a child, I struggled to navigate the challenges that accompanied my cerebral palsy. It was during this time that I discovered the transformative power of writing. With pen in hand, I could create worlds of my own, where my disability did not define me. Writing became my voice, my escape, and my means of self-expression. I poured my heart and soul into every word, and with each piece I published, I discovered a part of myself that I hadn't known before.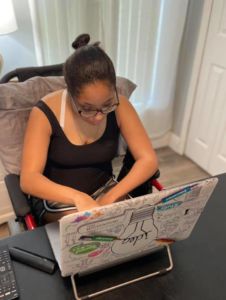 The Influence of National Authors:
Nicholas Sparks holds a special place in my heart, as his books played a vital role in shaping me as an author. During my freshman year of high school, I would spend hours engrossed in his novels, diving deep into the intricate layers of his storytelling. Sparks' ability to evoke raw emotions through his characters and captivating narratives inspired me to pursue writing with even more fervor. Without his profound influence, I wouldn't be the author I am today, constantly striving to create stories that touch the hearts of readers.

The Bluford Series: A Curiosity Trigger:
In addition to Nicholas Sparks, the Bluford series by various authors had a significant impact on my journey as a writer. This series, known for its relatable characters and engaging plots, allowed me to explore the art of storytelling in a unique way. As I delved into the pages of these books, I became curious about different perspectives and the power of representation. The characters within the Bluford series taught me the importance of inclusivity and the need for diverse narratives, including those that authentically represent individuals with disabilities. Their stories resonated with me on a profound level, reinforcing the significance of representation within literature.
Reflecting on the Influence:
On this day, I take a moment to reflect on the many authors who have influenced my life as an author with cerebral palsy. From Nicholas Sparks to the authors behind the Bluford series, their words have left an indelible mark on my writing journey. Through their narratives, I have found solace, inspiration, and a sense of belonging. They have shown me that my voice matters and that my experiences are valid. With each character and every book I publish, I strive to reflect the diverse and authentic perspectives that have shaped my own life.
Conclusion:
National authors hold a significant place in the hearts of authors with disabilities, like myself. Through their literature, they provide a platform for diverse voices and experiences to be heard. My journey as an author with cerebral palsy has been greatly influenced by the works of authors such as Nicholas Sparks and the creators of the Bluford series. Their stories have allowed me to find myself within my passion for writing and have underscored the importance of representation within all disabilities and the diverse quantities of life. As I continue to write, I aim to create characters and narratives that resonate with readers and reflect the rich tapestry of human experiences.